"TŌMIN" liquid freezing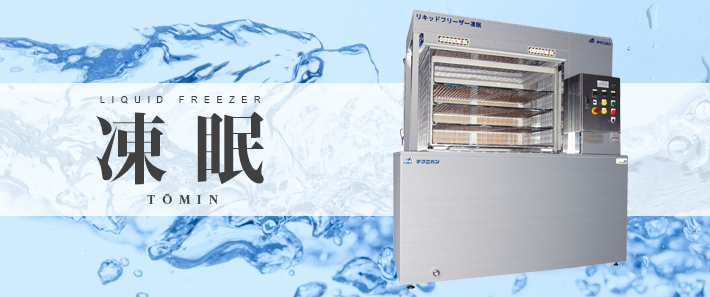 "TŌMIN" is a liquid freezing device enable to freeze foods more quickly, Food product immerses in frozen liquid (ethanol).
This is new freezing method against common air-blast freezing system.
The freezing with absolutely no organoleptic variation to the food products.
Comparison between liquid and air-blast after defrosting Japanese food [Konjac]

Why does the difference of such a quality occur?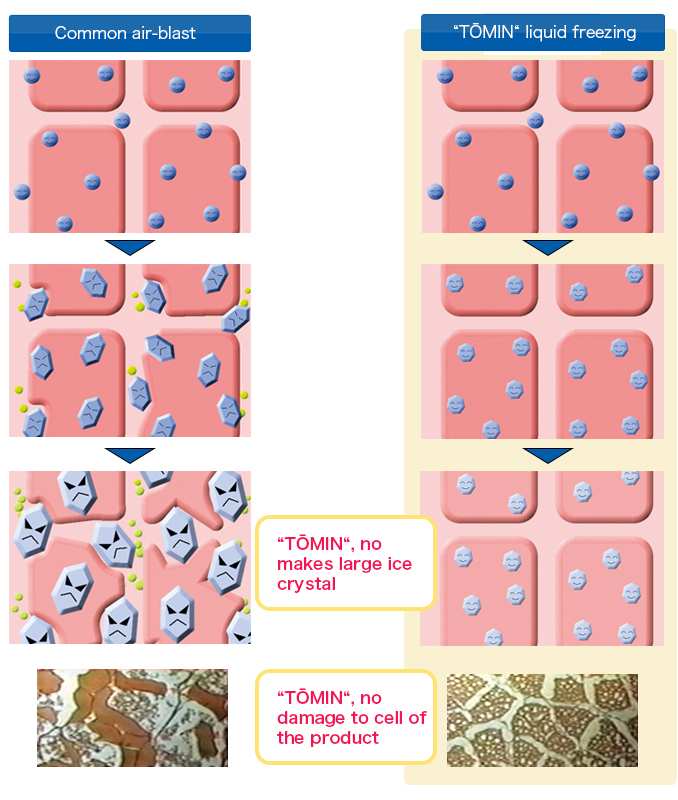 "TŌMIN" liquid freezing system enable almost same fresh product after defrosting.
Common air-blast

After defrosting, there are drips (loss of tasty) from the product

"TŌMIN" liquid freezing

No damage to molecules, the product keeps tasty

Air-blast : Chicken

"TŌMIN":Chicken

Air-blast : Beef

"TŌMIN" : Beef

Air-blast : YAKINIKU

"TŌMIN" : YAKINIKU

Air-blast : AJI

"TŌMIN" : AJI

Air-blast : Crab

"TŌMIN": Crab
The difference also appears remarkably in the drip amount data.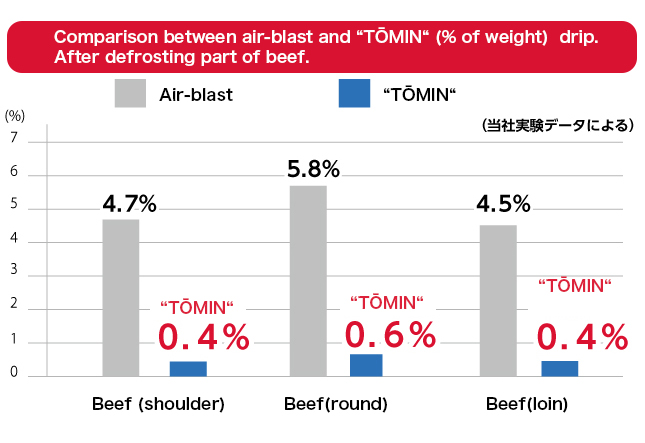 Drip is a liquid from cell of food products (meat and fish)after defrosting them,
drip contains a lot of nutrition, (protein, amino -acid and vitamin etc.).
If the nutrition loses from the foods, deteriorates these quality.
Please check actual video image of liquid freezing below
From 1st freezing to 1st defrosting test

[Check point]

① Color change due to freezing

② Speed

③ Defrosting method

from re-freezing to re-defrosting test

[Check point]

① After defrosting, appearance of drip

② Drip-less or not
Benefits of "TŌMIN"
20 times better thermal conductivity

The thermal conductivity of the liquid yields a 20-fold increase in freezing speed the speed needed to obtain micro-crystallization and avoid cellular damage.

Minimal drip

"TŌMIN" maintains freshness and
moisture, without loss of flavor or juices.

Higher quality

Incredible results in all facets of food quality. taste, texture, color and fragrance.

Space saving

The space required for a "TŌMIN" unit is 1/6 or less than a conventional freezer.

Improved working environment

"TŌMIN" reduces the strain on workers by eliminating the need to work in a refrigerated environment.

Simple operation

Freezing is easily accomplished by a simple touch of the button.

Applications for diverse products and industries

Besides the freezing of meat, poultry and seafood, "TŌMIN" is suitable for freezing a broad range of foodstuff such as processed foods, preleavened products and prepared foods.

Long shelf life

Powerful & versatile freezing extends the shelf life of food and makes it possible for long-term storage, and better stock management.

No special defrosting requirements

Defrosting can be carried out at any temperature with no other special requirements.
Technican freezing fluids safety features
The ethanol contained in the freezing fluids are a volatile material, but at temperatures below -8℃ to -10℃, volatility is reduced and no evaporation occurs.
The freezing fluids do not form "sherbet" ice slurry above -41℃
The flash point of the freezing fluids is approximately 24℃(by external application of a direct
flame, etc.).
If the unit is idle for a long time, it will automatically maintain the temperature at -10℃ to -15℃ in order to hibernate the freezing fluids and minimize the freezer running cycle.
Examples of "TŌMIN" Liquid Freezer Applications-Retail
Pubs and inns

Fish roe from seasonal catches like salmon can be frozen in bulk with no loss of shape or texture after defrosting. Japanese delicacies such as whipped yamaimo (yam) and similar foods can be frozen and defrosted in portions as needed.

Hotels and restaurants

Customers can be offered short-shelf life appetizers such as sashimi (sliced raw fish) and crab with "newly-caught" freshness and flavor. "TŌMIN" Liquid Freezer is also ideal for previously un-freezable delicacies such as terrine and foiegras.

Supermarket delicatessens

Tempering (freezing the surface layer of ham, meat, etc. for easier slicing) can be quickly and easily achieved using a "TŌMIN" Liquid Freezer. This process reduces meat wastage during slicing and the product is not prone to temperature rises after packing in trays, which helps retain flavor.

Korean barbeque restaurants

Time consuming preparation dishes such as Korean Yukhoe can now be made in advance and frozen. By defrosting on demand, restaurants can offer this spicy delicacy whenever they wish while making more efficient use of their time.

Shabu-shabu restaurants

Frozen thinly sliced meats served in shabu-shabu restaurants retain their juices and flavor through minimal dripping

In addition, the "TŌMIN" Liquid Freezer can be deployed in an array of businesses, including marine product and meat processing plants.
Examples of 「TŌMIN」 Liquid Freezer Applications-Foods
Meat
Beef
Pork
Chicken
Visceral meat
Offal
Ham(tempering)
Foiegras
Duck meat
Fish
Salmon
Fugu (blowfish)
Tuna
Sea-bream
Aji (horse mackerel) Hirame (flounder)
Anko (angler fish)
Hamo
Buri
Kanpachi(Amberjack)
Other seafoods
Ankimo (monkfishliver)
Squid
Octopus
Lobster
Prawn
Oysters
Abalone
Caviar
Salmon
Vegetables and fruit
Bamboo shoots(boiled)
Gobo(Burdock root)
Broccoli
Spinach
Greens
Mango
Papaya
Yama-imo(Yam)
Pickles
Processing and cooking Products
Vacuum-cooking products
Various foods
Atsuyaki Egg
Roast Beef
Seasoned fishes
Chinese Food
Catering Ingredients